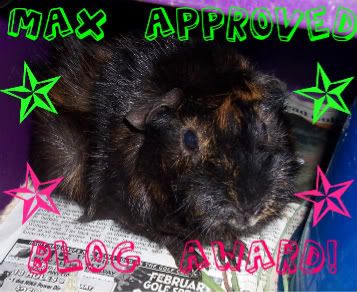 I have always wanted to make my own award, I finally made one!
The rules are:
Post the award on your blog somewhere.
Thank the person who gave it to you in a post.
Award 5 other bloggers, NO PASS BACKS!!!
Post about (choose one of these five things):
1. Your favorite food.
2. What's in your purse/bag.
3. Your favorite piece of clothing.
4. Your favorite pet.
Or...
5. Your home-made music video.
If you follow the rules then you will have a Max Approved Blog!
I award,
Jennifer
(thanks for following my blog!)
Oddyoddyo13
Malou
Gabrielle
Abigail
Have fun with the award I made!
The guinea pig in on the award is Max, my guinea pig. I got him for my 13th birthday, he's awesome!
-Miss Mayhem